AgWest grant finances food trailer for RHS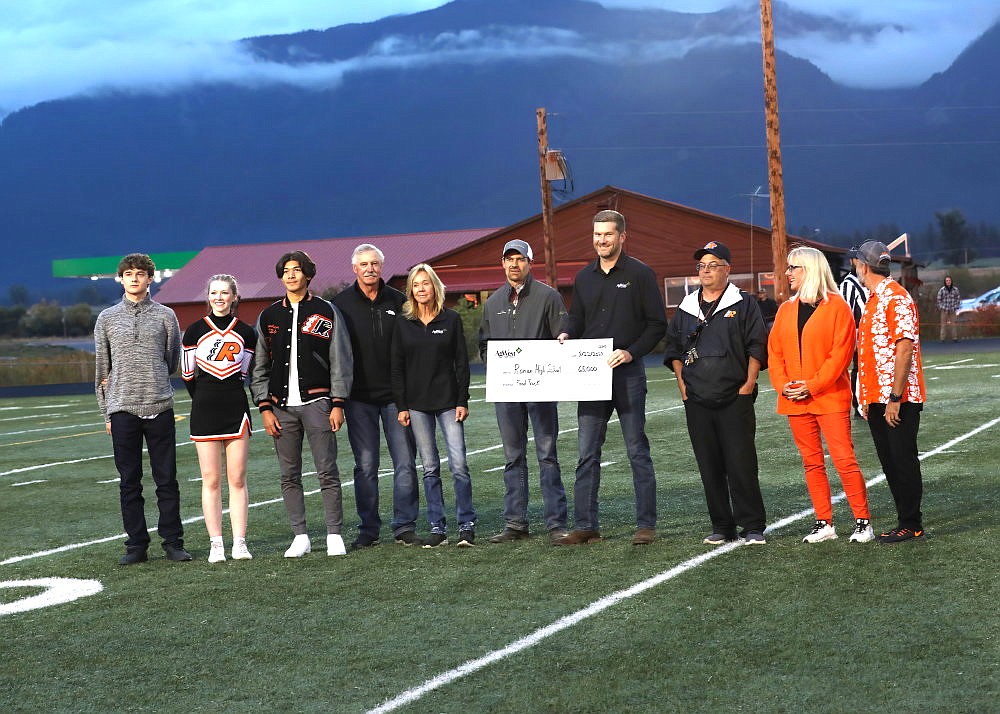 AgWest presented Ronan High School with a $65,000 grant to purchase a food trailer during halftime at last Friday's football game. The presentation included students Ashton Losleben, Hannah Fussel and Beau Decker, advisors Roger Starkel, Kathy Starkel and Miles Passmore, AgWest Vice president Scott Kessler, Ronan High principal Kevin Kenelty and staff members Heather and Jesse Gray. (Susan Lake photo)
|
September 28, 2023 12:00 AM
AgWest Farm Credit recently awarded Ronan High School a $65,000 grant to purchase a new food trailer. AgWest Vice President Scott Kesler and local advisors Kathy Starkel, Miles Passmore and Tim Lake were on hand, along with Ronan High teachers, administrators and students, for the check presentation during last week's Homecoming game.

AgWest is a financial service cooperative that provides lending, crop insurance and advisory services to the agriculture industry. Each year their Local Advisory Committee, which is made up of customer-owners, gives input for the LAC Grant program, designed to further AgWest's purpose of serving their communities.

This year's grant goes to Ronan High School to help students purchase a new food trailer, which will serve as a fundraising mechanism for various clubs, including FFA, Business Professionals of America and the Technology Student Association.
RHS students raise onions, cabbage, tomatoes and cilantro that are served on tacos that they sell during school events. They are also working with local potato farmers to add French fries to the menu.
Recent Headlines
---