Polson seizes West's No. 2 seed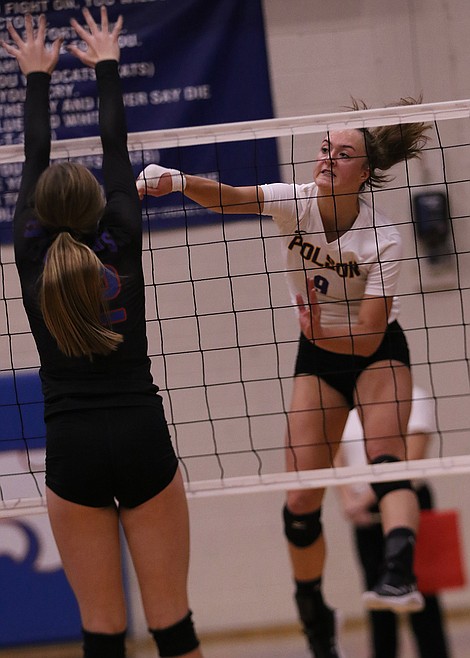 Maggie Todd gets another kill against Columbia Falls on Saturday. (Bob Gunderson)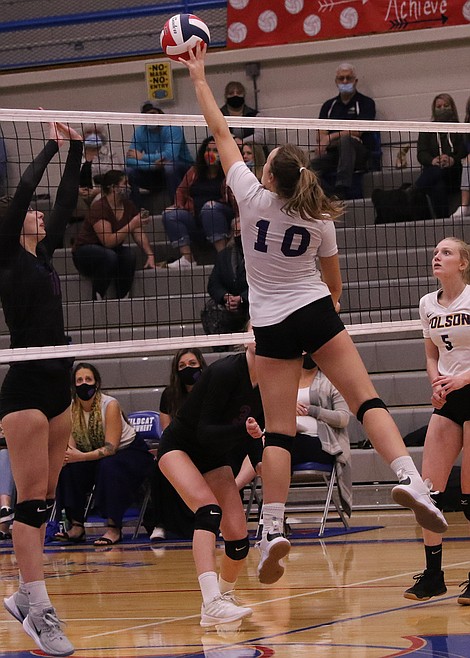 McKenna Hanson goes for the tip shot against Columbia Falls on Saturday. (Bob Gunderson)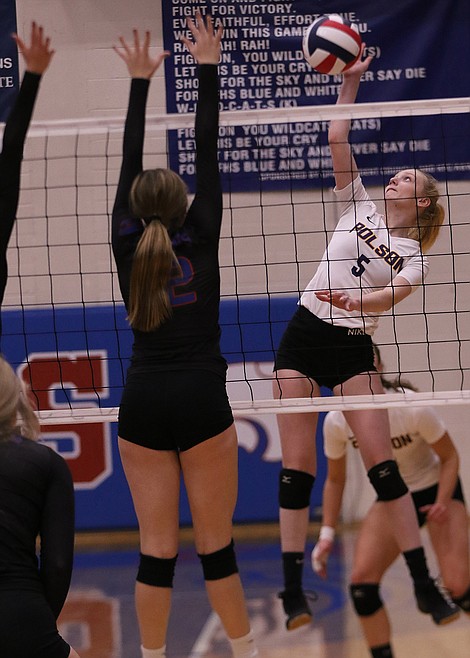 Hallie Moss fires off a shot during Polson's divisional championship match at Columbia Falls on Saturday. (Bob Gunderson)
Previous
Next
|
November 9, 2020 11:45 AM
At Columbia Falls for the Western A divisional championship, the visiting Lady Pirates pushed the undefeated WildKats in the first set. But the host team managed to hold off the charge of the visitors to take the closely contested opener.
Thereafter, Columbia Falls was able to gain greater separation as they swept the next two sets to win the match for the divisional championship.
Maggie Todd led the Lady Pirates at the net with nine kills, while Kobbey Smith served up a pair of service aces. The dynamic duo led the defensive efforts as they combined for four blocks and over 40 digs.
Polson advances to the state A tournament in Sidney as the No. 2 seed from the West and will face the East's No. 3 seed Glendive in the opening round.
Western A semifinal
At Polson for a Divisional semifinal, visiting Ronan and the host Lady Pirates would rendezvous for a rubber round of their Rez rivalry wrangles. Polson won a thriller in four sets (see related story).
Western A quarterfinal
At Polson for the divisional opening round with Hamilton, the visiting Lady Broncs and the host Lady Pirates engaged in a see saw battle that had to be settled with a fifth set finale.
After Polson had taken a 2-1 set advantage and had Hamilton on the ropes, the Lady Broncs refused to be reined in. The fourth set was tied a half dozen times up through 15 apiece before Hamilton went on a crucial 3-0 run that forced a Polson timeout. The Lady Pirates closed the gap to within one at 19-20 after a Maggie Todd service ace, but couldn't reel in the lead any further to even the sets at two apiece.
One would have anticipated that the Lady Broncs would have been able to capitalize upon the momentum from the previous set into the finale. But their preceding surge had all but evaporated as Polson jumped ahead into the lead with 6-0 and 5-1 runs that forced a pair of Hamilton timeouts in order to stem the bleeding. The Lady Pirates would maintain their margin and advance to the semifinal match.
Kobbey Smith and Hallie Moss combined for over three dozen spikes. Berkley Ellis had four aces, while Ara Mercer notched 33 digs.
Western A championship
(1NW) Columbia Falls def. (2NW) Polson 3-0
Polson (11-5), C-Falls (15-0)
C-Falls def. Polson 25-23, 25-17, 25-13
KILLS – P22 (Maggie Todd 9, Kobbey Smith 6), CF46 (Madyson Hoerner 13, Dillen Hoerner 10, Lauren Falkner 8). ACES – P5 (Hallie Moss 2, Kobb 2), CF8 (Hannah Schweikert 4). ASSISTS – P22 (Berkley Ellis 11, Hallie Moss 9), CF36 (H.Schweikert 35). BLOCKS – P5 (Mags 2, Kobb 2), CF3 (Jazzy Marino 1BS1BA, D.Hoerner 1BS, L.Falkner 1BA). DIGS – P92 (Mags 23, Kobb 18, Ara Mercer 15), CF57 (M.Hoerner 12, D.Hoerner 12, J.Marino 11). (Sa07Nov20gm11div)
Western A quarterfinal
(2NW) Polson def. (4SW) Hamilton 3-2
Polson (10-4), Hamilton (4-11)
Polson def. Hamilton 25-18, 17-25, 25-16, 20-25, 15-5
KILLS – H46 (Maggie Ringer 11, Katelyn Dickemore 11, Camas Cratty 10), P53 (Maggie Todd 16, Kobbey Smith 12, Hallie Moss 10, Mckenna Hanson 6, Liz Tolley 5, Grace Simonich 2, Ara, Berk). ACES – H4 (Maddisen Neal, L.Kearns, C.Cratty, K.Dickemore), P10 (Berk 4, Kobb 2, Hallie 2, Mags, Kenna). ASSISTS – H31 (Katelyn Dickemore 23), P42 (Berkley Ellis 22, Hallie Moss 16, Mags, Kobb, Kenna, Grace). BLOCKS – H (Mya Winkler 1BS), P5 (Mags 2, Kenna 2, Hallie). DIGS – H84 (Layne Kearns 19, K.Dickemore 15, M.Neal 11, Jenna Guisinger 11), P 79 (Ara Mercer 33, Kobb 13, Mags 10, Hallie 10, Kenna 6, Berk 4, Grace 2, Chloe DuCharme). (Th05Nov20gm2div)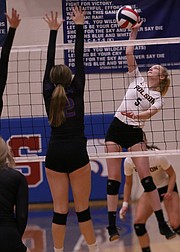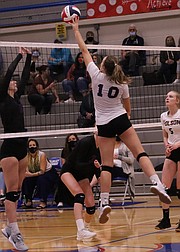 ---