Dynamic duo: Homegrown film company brings local horror movie to the big screen
Brandon Smith and Eden Bryant co-founded the Polson-based film company Second Wind Productions last year. Their first feature film, "Nexus of Evil," premieres Thursday night at Showboat Stadium 6 on Main Street in Polson. (Scot Heisel/Lake County Leader)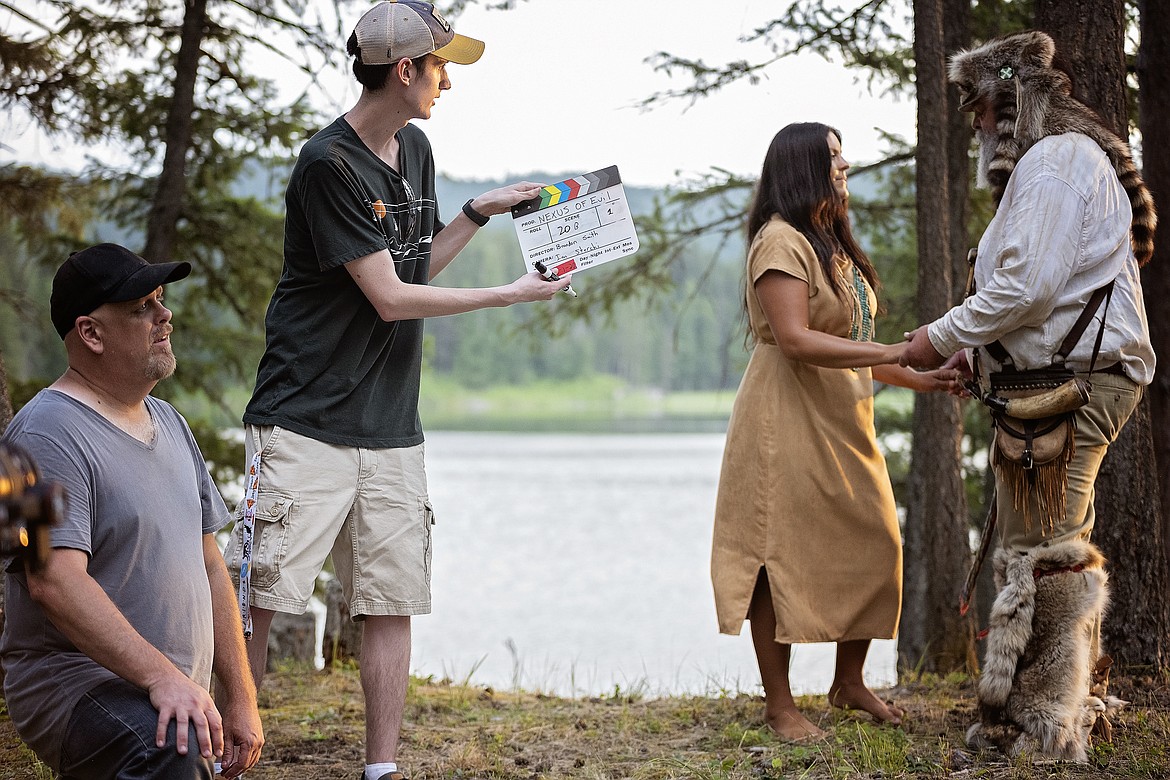 Brandon Smith, far left, directs a scene in "Nexus of Evil." The full-length horror film was shot over seven days at the Darrell Fenner 4H Camp on Loon Lake outside of Ferndale. (Second Wind Productions)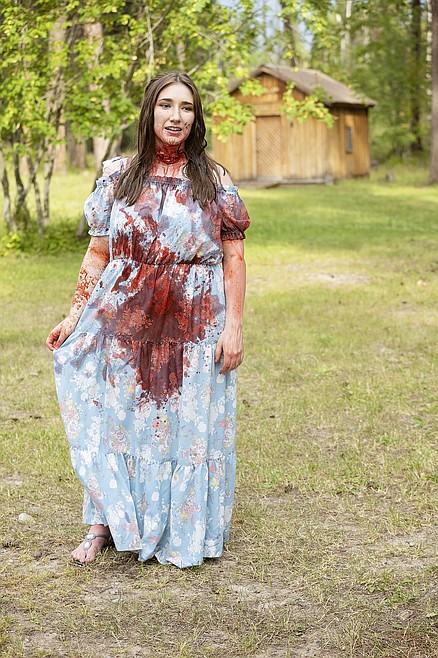 Sadie Melton of Polson won a pre-production raffle for the right to a "Nexus of Evil" death scene. (Second Wind Productions)
Previous
Next
by
SCOT HEISEL
Lake County Leader
|
October 21, 2020 9:15 PM
It's not often that a location's availability serves as the starting point for a feature film project, but when you're running a fledgling production company you need to seize your opportunities as they arise.
Last May Polson filmmaker Brandon Smith was talking with his wife, Judy, about camping and COVID-19 restrictions and realized that summer camp locations throughout the region were unable to book camps due to the pandemic. Inquiries were made and he realized he could book his own sort of summer camp.
He contacted his business partner, Eden Bryant, with whom he co-founded Polson-based Second Wind Productions.
"Crazy idea," he told her. "I can rent an entire campground for a week. How about if we just bring the entire cast and crew, we all stay at the camp like we're a summer camp and we shoot a summer camp horror film?"
Bryant agreed, and less than six months later their film, "Nexus of Evil," is set to premiere on the big screen at the newly remodeled Showboat Stadium 6 on Main Street. You can view a trailer for the film here.
The film, which relied heavily on local talent for cast and crew, tells the story of a group of kids whose summer camp experience in 1990 is abruptly cut short when everyone is sent home without explanation. Fifteen years later the same group, now adults, decides to visit the camp again and try to reclaim the experience they missed out on as kids.
Smith outlined a script with the help of his 17-year-old daughter, Anabella, and pounded out a first draft in six days.
"It's a throwback to the horror films of the '80s and '90s," Smith said.
To jumpstart the project's financing, Smith and Bryant held a raffle, with the winner getting a death scene in the movie. People from all over the country bought tickets — some overseas even. Sadie Melton of Polson won the raffle, and she's credited as "Contest Winner '70s girl" on the film's page at IMDB.com.
Filming was done at the Darrell Fenner 4H Camp on Loon Lake outside of Ferndale. Cast and crew was limited to 50 people at a time at the camp due to pandemic restrictions, and they worked long days and nights at a frenzied pace to get it done in one week.
Smith and Bryant met by chance via Facebook in 2019 and quickly realized their shared interest and experience in film production. Smith had worked in film and taught filmmaking in California before moving to Polson 16 years prior. His experience included post-production work on blockbusters such as "Last Man Standing" (1996), "Blade" 1998 and "American History X" (1998).
Bryant had recently completed a six-month program at the New York Film Academy in London.
They made a deal to collaborate first on Smith's short film "Sand+Box" and then Bryant's short film "Step 9." Second Wind Productions was born, and the duo officially registered their new LLC last December. "Sand+Box" was completed in time to be included in the 2020 Flathead Lake International Cinemafest (FLIC) in January.
Around that same time they formed a separate LLC, Nova Vento Entertainment, along with Showboat Stadium 6 co-owner Becky Dupuis. Nova Vento is a distribution company that helps filmmakers get their creations into theaters. Their first distribution deal came with the crew of the historical crime drama "Effigy — Poison and the City," which also was part of the 2020 FLIC lineup and currently is playing at Showboat.
So with both a production company and a distribution firm in place, the filmmakers are poised for success.
"The best part of watching movies is being at the movie theater and getting that experience," Bryant said. "As a filmmaker, that's where you want to see your movies, up on the big screen."
And while having a distribution company will help them get exposure for their own work, it has the added benefit of allowing them to help others get exposure as well.
"Nexus of Evil" is the first feature film completed under the Second Wind Productions banner, and it debuts Thursday night at Showboat Stadium 6 with a special showing for cast and crew. There's a reception to follow, and a limited number of VIP tickets are available for $30 at the theater.
The film will continue to run at Showboat at least through Halloween. So far showings have been set at Showboat's sister theater in Havre, and others are being pursued.
For more information on completed projects and others in development, visit secondwind.productions, where "Sand+Box" is available for viewing. The company also has a Facebook page. For more information about the FLIC film festival, visit www.flicpolson.com.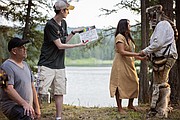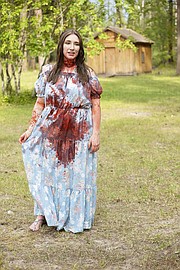 ---