Rescued osprey chick euthanized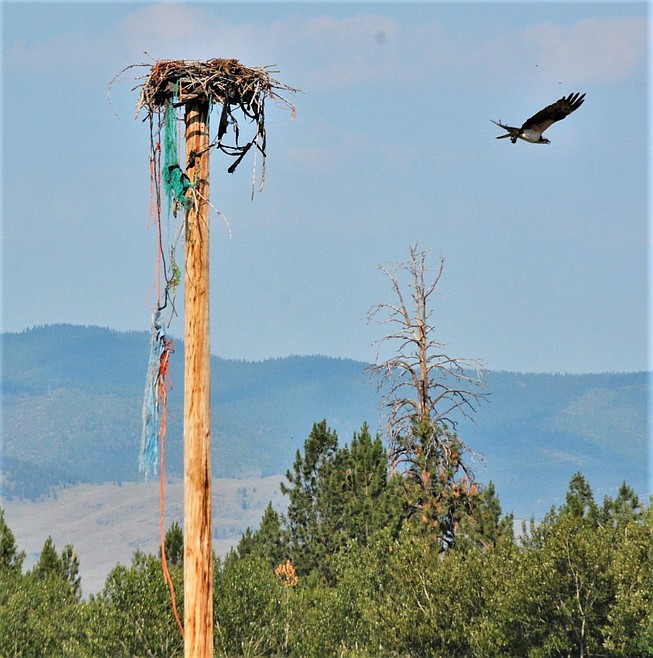 An osprey nest between Moiese and Dixon puts on full display the propensity ospreys have for collecting hay baling twine and round bale net. Osprey often become entangled and cannot break loose, and many chicks and adults die in the area each year from the human-discarded twine. Biologists at Charlo's Owl Research Center will remove this collection soon. (Courtesy photo)
by
CAROLYN HIDY
Lake County Leader
|
July 15, 2021 12:35 AM
Last week an osprey chick of the Ninepipes area pair Charlie and Charlotte was removed from its nest after becoming entangled a second time in hay baling twine brought to the nest by Charlie.
When live video cam viewers noticed the chick entangled in the twine the first time, Owl Research Institute biologist Beth Mendelsohn recruited a local sign truck company to lift her up so she could disentangle the chick and remove the twine from the nest. ORI has a policy of non-intervention in the affairs of nests seen on video cam, except in the case of human-caused problems, as in this situation.
Mendelsohn found the chick's leg swollen from being tightly wound in the twine. After consulting with raptor rehabilitation specialists, it was decided to leave the chick in the nest.
Within a week, a second piece of twine had been brought to the nest, and the chick was quickly entangled in it again. A second bucket truck was recruited, and a midnight rescue ensued. Though the twine was not as tightly wound around the bird as the first time, Mendelsohn found that the injured leg was not improving. The chick was removed from the nest and taken to Wild Skies Raptor Center in Potomac for rehabilitation.
"I wish it were a happier ending, but it is such an important story," Mendelsohn said. "The osprey chick had to be humanely euthanized."
The leg was determined to be broken, and prospects for recovery were poor, she said.
"The injury was more severe than you would expect just from having the twine wrapped. The injury was bad enough we are actually hypothesising that a great horned owl tried to snatch it while it was caught but couldn't get it free of the twine."
Or perhaps a parent had been caught in the twine, too, and ended up pulling it tight. Anything that happened at night would not have been seen on camera.
Baling twine is often left in the field when bales are opened, and is commonly brought to nests for nesting material, Mendelsohn said. The twine kills as many as 10 percent of the area's osprey chicks each year, and adults as well.
"Unfortunately, it's hard to convince osprey that baling twine doesn't make for good nest material (believe us, we've tried!)," Mendelsohn said in a blog post. "However, there are a few other things we can do to help make the world safer for osprey and their chicks:"
She suggests picking up twine, fishing line and other trash, removing it to a place unavailable to birds, and leaving appropriate nesting material around.
"Consider this permission to do less yard work. Leave moss and trees with lichen on them, and, when safe, leave dead trees on your property. Osprey build their nest out of sticks and line them with soft mosses, lichen and grasses. Lots of other birds will nest in dead standing trees, so you'll benefit many species of birds, not just the osprey."
For more information on the Owl Research Institute in Charlo, visit owlresearchinstitute.org.
Recent Headlines
---